Keycon is Manitoba's premier Science Fiction & Fantasy Literary Convention. It focuses on science fiction, fantasy and related literary genres in any form. It includes, but is not limited to, writing, visual arts, television and film.
A heartfelt thanks to all who bent their efforts to making Keycon 33 a major highlight of 2016, and to all who attended. Stay tuned for news about the special event Keycon will be formally announcing in the next little while.
The Program Book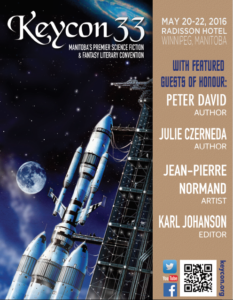 (as always, subject to last minute changes)
Notice 1: Reminder, Saturday May 21, 2016, 10am-12pm (noon) Keycon is having the "Taster". Admission free for the 11th Floor only. If you or a friend has never been to Keycon, this is your chance to try it for free. 
Notice 2: It is deep regret that we announce that our ART Guest of Honor Jean-Pierre Normand has suffered an accident and the resulting tests that do not allow him to fly over the the period of Keycon2016. We wish him a speedy recovery.
Notice 3: The price for the Dinner has been set. Tickets are $30.00 and will be available at Registration on the 12th Floor.
Notice 4: If you are unsure if you have already registered or not for Keycon 33, please contact registration2016@keycon.org.
Notice 5: Just in case you missed it, here is David Lightfoot's presentation.
The 33rd edition of Keycon will be running on May 20, 21, & 22, 2016 (Friday evening through Sunday)

Hey, does your local library branch, grocery store or community centre have a bulletin board that can use some sprucing up? Print off one of these and ask to post it. Help spread the word.
Guests
Author Guest
of Honour Peter David